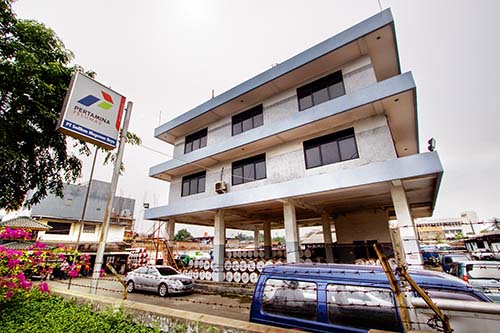 Company History
---
Sadikun was established in March 13th, 1968, Sadikun has defined a progressive vision and mission. The Company has been developed to provide channels for expanding networks, relizing potential market and meeting the challenges of the globalization era.
Sadikun has been a official distributor agent of Pertamina which sells Pertamina products such as Fuels, LPG, Natural Gas, Coal, Lubricants, Sadikun's distribution system encompasses the nation and is organized through our regional offices which are located in Merak, Jakarta, Bekasi, Bandung, Surabaya And Denpasar.
Now, Sadikun has operated for more than 40 years, by embracing customer trust and loyalty as the Company's main value. The growth of your Company is our goal, and Sadikun stands ready to provide sustainable energy supply chains in line with the needs of your business. Sadikun serves large, medium and small companies, Sadikun also reaches out to industries, households, restaurants, Hotels, gas stations, hospitals and many others. The growth and accomplishment of Sadikun are inseparable from the loyalty of our clients. Sadikun loves to say thanks to our loyal Customers that have supported and participated in the success of Sadikun.
This is the right time to entrust the management of your energy needs to Sadikun. Sadikun will support the development of your core business through Sadikun's extensive national and international networks by holding true to Sadikun's values of integrity, accuracy and consistency, because for us our clients are family.
VISION
Being a reputable and reliable energy Company in Indonesia
and known for its excellent quality of service and satisfactory performance.

MISSION
• Providing the best service to Customers by applying the values of integrity, reliability, consistency and loyalty.
• Providing good quality products and services to improve Our quality of life.
• Creating added value to Customers, employees and all interested parties.
• Supporting local products (Pertamina) to be the frontrunners for supplying energy in Indonesia.

ACHIEVEMENT